Home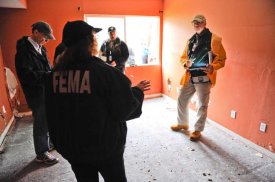 Why has Inspection Report Creator become so widely used by home inspectors?
The answer is simple: for over 10 years we have listened to our clients and provide the features inspectors ask for. It's not a new business idea, but it's one that makes a lot of sense.
We've received many great comments about Inspection Report Creator. We've included some of their comments and insights below to illustrate what customers like about our inspection report software products.
← Back
---

THE LEADER IN HOME INSPECTION SOFTWARE NOW AVAILABLE ONLINE!

"I've tried every other program and Inspection Report Creator is much easier to use and figure out. I use a ruggedized tablet PC and I can complete reports with just the stylus pen. This saves me an enormous amount of time compared to the old way. The other day I dropped my tablet climbing into a crawlspace and had to restart it. I thought I had lost my report but the Auto-Recovery button brought back the whole report! Absolutely first rate..."
J.B. Murfreesboro, Tennessee
"Your support department was really helpful when I called. For some reason I couldn't select multiple components in one section and Matt walked me through it. Then he sent me a permanent fix for the problem. That is what I call good customer support!"
L.W. Huntsville, AL
"I love it! Much easier to use than the other programs. It's amazing how quickly I can finish a report with your software that would take forever with another program. I think the ease of use is the best benefit so far..."
L.H. Greenacres, FL
"I'd like to thank you for all the time you spent troubleshooting my problem. The problem (that turned out to be my printer) is solved and that inspection report I called about is finished and printed! I appreciate you being there and helping every time I've called. That is something you don't see every day."
M.S. Englewood, CO
"I've been using Inspection Report Creator software and I'm very satisfied with it. I do home inspections part-time, once or twice a week and being able to create the report on site is a big plus. Even if I don't deliver it right away, it gives me peace of mind. I also like the way the program makes sure I check everything and refreshes my memory."
R.J. Atascadero, CA
---
---
Web Posts
bruce bacon:
06-10-2015 11:19am
I really felt grateful to the designer of this software. IT IS USEFUL!!!! Clear and direct. What I recommend is do the trial and see for yourself. It is not for everyone by the way! But, if you are like me, a serious inspector who has well paying clients who want to cut through all the BS, and get down to the meat and potatoes, then this is for you. But you will need a basic understanding of home construction, codes, styles, components, electricity, etc. I works if you work! It is not a software for the simple mind, or the lazy guy. It requires control of subject and hands on experience to make it work, and when it does, IT WORKS! I am sold on this software. I've used other high tech solutions, and they are a waste of my valuable time. Clients want the report yesterday! Like I said, this programs gives you the control to get the job done! Hands down the best of used. Bruce Bacon, Harbor City, CA